A few weeks ago, we discussed the basics of training terminology. But, for the more curious among us, there is a few terms/ metrics that we left off the list – these will be discussed below. As always, we'll keep it as research backed as possible while also making the information accessible in how these metrics apply to you, the athlete.
So, lets dig in!
Critical Power (CP)
Understanding CP is important for some of the upcoming terms hence why we've jumped into it first. Monod and Scherrer1 defined the CP of a muscle group as ''the maximum rate of work that it can keep up for a very long time without fatigue.'' Sound familiar? Yep, it draws strong parallels to our brief discussion of threshold in the last piece.
CP is important as it represents the intensity as which exercise can no longer be sustained for a long period – for endurance athletes this is crucial as it helps with everything from pacing strategies to zone setting!
So how do we calculate it? Over decades numerous studies have been conducted into the mathematical modelling of this performance metric (an excellent review of which can be seen here).
In the approach we use1, 2 we need to find total work done, time to exhaustion for multiple "maximal" exercise bouts generally in the region of 3 to 20 minutes and the athlete's weight. As a watt is a joule per second we can very easily calculate total work done, divide it by weight and plot it against time the slope of the resulting line is equal to CP.
We use test durations of 12, 7 and 3 minutes and use our own calculator but if you're the inquisitive type you can have a look at this online calculator here
Anaerobic Work Capacity (AWC), Functional Reserve Capacity (FRC), W' (Watt Prime)
Different definitions all the same thing! In basics terms AWC, FRC and W' are a measure of how much work you can do above your critical power (or anaerobically) expressed in kilojoules (Kjs).
Building on what we discussed in relation to critical power W' is the definition we should go with in that it is a finite amount of work performable above CP, AWC and FRC definitions are similar.
It is calculated by finding the intercept of the values mentioned above in relation to critical power.
Leaving the math to one side why would we want to know this? Well, knowing the amount of work we can perform above CP means we can estimate how many watts we can produce for a given time! This is extremely helpful for establishing pacing guidelines for shorter events like hill climbs or prologues.
That was pretty full on, but don't be afraid to drop us a line if you'd like to know more about this test or how to calculate it.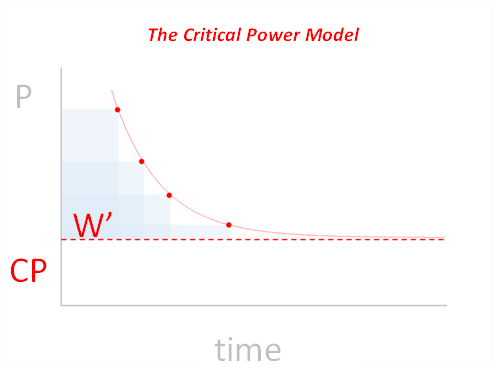 Lactate
We talk about it but what is it?
During a process known as glycolysis – glucose is broken down to produce energy and lactate, during submaximal (easier) exercise our bodies metabolize this lactate and it is not an issue. As exercise intensity increases (above CP) there is a higher demand for glucose. This in turn means that more lactate is produced up to a stage at which the body can now no longer metabolize/ clear it. Blood pH drops creating an acidic environment within the muscle decreasing your ability to sustain the workload.
Maximal Aerobic Power (MAP)
MAP is a term you may be familiar with. MAP is the power you produce at your VO2 Max, a quick aside, VO2 Max is the maximal rate of oxygen consumption.
The main way to test this is through a ramp test to exhaustion or a "graded exercise test". There are so many protocols for this that we won't get into it but essentially, you're incrementally increasing exercise intensity at set time periods until you cannot go anymore …. it's a hard test! It's generally accepted that the power averaged over the last 3 minutes is equal to MAP.
Why would we want to know this? Some coaches base training zones off MAP so it is essential here. One thing we use it for is estimating the "trainability" of an athlete based off something called fractional utilisation. There is a strong correlation to intensive endurance performance (or events based around the lactate threshold) to one's ability to use high percentages of their VO2 Max3. Elite endurance athletes can utilize up to 90% of their VO2 Max3, but we often see the ceiling being hit at 85%. This means if your threshold power is sitting below this mark there is a lot of scope for you to improve – this also makes it easier to base informed targets for athletes.
Aerobic Threshold (AeT / LT1)
This is a great marker to track in a base period. It marks the first upward shift in lactate and ventilation and is a great indicator of a well-developed aerobic base. This is synonymous with marathon pace or long endurance bike riding. Unfortunately, there is no real way to estimate AeT, a lactate profile test is usually required in some shape or form! At or under this area is a great place to base endurance training or recovery following strenuous intervals.
Anaerobic Threshold (LT2)
This is most commonly interchanged with the lactate threshold. It is also interchanged with FTP and critical power and a host of other terms to decipher this area at which exercise becomes more difficult. Here though we're looking more in the lines of objective lactate and ventilation results from testing. This area represents the second shift upwards in lactate or ventilation, so in common terms your breathing becomes heavier and legs start to "feel the burn".
Probably a whole lot more but let's park it there!
References
1 Monod H, Scherrer J. The work capacity of a synergic muscular group. Ergonomics. 1965;8:329–38
2 Karsten, B., Jobson, S. A., Hopker, J., Stevens, L., & Beedie, C. (2015). Validity and reliability of critical power field testing. European journal of applied physiology, 115(1), 197-204.
3 Costill, D. L., Thomason, H., & Roberts, E. (1973). Fractional utilization of the aerobic capacity during distance running. Medicine and science in sports, 5(4), 248-252.